3D scanned & printed orthotics offer the highest level of accuracy possible when creating custom orthotics
Extremely accurate.

Very light weight.

Corrections that are usually "stuck on" to the outside of a typical orthotic can now be incorporated into the device = less bulk and weight!

Orthotics, or shoe inserts, can help redistribute weight evenly across the feet while also providing the foot and ankle with ample cushioning, shock absorption and support.  Orthotics can not only be used to treat a variety of foot pathologies, but  they can also provide support and prevent injury in a variety of normal everyday activities.  Everyone from the stationary operating room nurse or cashier to the elite athlete can benefit from a well made orthotic.
Typical uses for orthotics:
Postural support

Hip, knee, low back pain or malalignment

Heel pain

Metatarsal pain

Tendonitis

Arthritis

Flatfoot

Diabetes

And many more...
Custom orthotics are different from the standard orthotics or shoe inserts you see at your local pharmacy.  Custom orthotics are designed to fit you and your specific needs.  Before getting getting orthotics, our foot and ankle specialists will review  your medical history and determine whether your condition or specific application could benefit from these devices.  This technology allows our doctors to create the most accurate and precisely fitted orthotics available through specialized 3D scanning technology.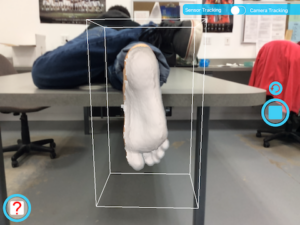 If you want to learn more about our 3D custom orthotics and how they could improve the health and function...